me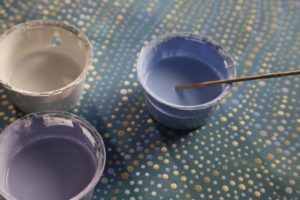 I was born in Verona, Italy, in 1987. I currently live and work in Vienna, Austria.
I always had two big interests in my life: languages and painting. I have started painting when I was very young, but I realised quite late in my life that I wanted painting to be my job. My art is the product of very different experiences and backgrounds.
During my studies at the university I enhanced my knowledge in the field of linguistics and semiotics, and history of art among others. My final master thesis was about the relationship between sign and meaning four different pictographic writings (Hittite, Chinese, Sumerian and Aztec early pictographic writings). I researched how, at the very beginning of human culture, the first linguistic meanings originated from graphic signs, and how human beings were able to create linguistic symbols in order to understand each other, canalising very different mental concepts. This thesis had an important impact on my art.
During my studies I opened a publishing house called FernAnda Pappetrice. We published books with a recycled and hand-painted cardboard cover. Our authors were contemporary and old writers from different countries. This self-publishing project took inspiration from the phenomenon of the editoriales cartoneras, which originated in Argentina in 2001 during the big economical crisis. FernAnda Pappetrice was for me a big social experiment (the group was composed by more than 15 members) and a kind of art performance, which aimed to make people think about the power of cultural industries in our society and about the material object 'book'. This project lasted for more than one year.
In 2015 I opened a collective art studio in my hometown, Verona. We called our group Alta Tensione. We were in total 6 artists coming from different art fields, and we organised several exhibitions and collaborations.
In 2017 I moved to Vienna and I live in this city since then.
In the last 10 years I have travelled to different countries all around the world and I spent some months there. I took inspiration from the local art of the places I visited and I learned to relativise my own European education and point of view.
Aboriginal Australian art had the biggest influence on my work, even if I interpreted their way of painting from an occidental point of view, being aware of the big diversity which separates me from their religion and culture.
Exhibitions
Vienna, March 2018 – United Nations – The ocean and the shore, Abstraction from Nature – duo exhibition with painter Melanie Simoni;
Verona, July 2017 – Rosso Superiore – Sounds of Light – collaboration with AGAV (Association of Young Architects in Verona);
Verona, May 2017 – Deposito A – Space opening and vernissage – collective exhibition;
Verona, October 2016 – Alta Tensione Painting Atelier – collective exhibition;
Verona, May 2016 – Alta Tensione Painting Atelier – Exploring Spaces – collective exhibition;
Vienna, May 2015 – Café Lassa – Light trough solo exhibition.